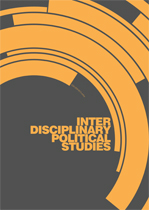 Aim and Scope
Interdisciplinary Political Studies (IdPS) aims to pursue two goals: affirming the importance of rigorous, high-quality Open Access publishing in the field of Political Studies, without imposing article processing charges to authors, and opening the fields of comparative politics and international relations to the contribution of other related disciplines. It is open to scholars studying political issues through the lens of several social science disciplines such as political science, international relations, political theory, political economy, sociology, legal studies and contemporary history. Interdisciplinary analyses are particularly welcome. It publishes two issues per year focusing on domestic and international politics.
IdPS considers the following types of submissions: Research Articles, Research Notes, Review Essays and Book Reviews. Prospective guest editors are invited to submit special issues proposals.
All papers are subject to a rigorous process of double-blind peer-review.
Indexing and abstracting
The list of indexing and abstracting services including IdPS is rapidly expanding. To date, our journal is covered by:
Directory of Open Access Journals (DOAJ); JournalTOCs; Quality Open Access Market (QOAM); Georgetown University Library; Google Scholar; Academic Journal Database; Open Access Journals Search Engine (OAJSE); Directory of Open Access Scholarly Resources (ROAD)
Announcements
Call for book reviews - Special Issue "The Politics and Policies of Constitutional Reforms in Times of Crisis and Great Transformations"

Declaration of interest for reviewers by: 30th January 2021

First submission due: 30th April 2021

Final version due: 30th May 2021

 

Length of reviews: 1000 words per book

Contact: editors.idps@gmail.com

 

 

 

Posted: 2021-01-08
More...
Vol 6, No 2 (2020): "Turkey in 2000s: Change within Continuity, Continuity within Change" - Guest Editors: Aslı Telseren, Şirin Duygulu
Full version
Special Issue
Book Reviews
| | |
| --- | --- |
| The New Turkey and Its Discontents, by Simon A. Waldman and Emre Caliskan. Oxford: Oxford University Press, 2017, pp. 360 | Details pdf |
| Maria Papageorgiou | 397-401 |
| | |
| --- | --- |
| Party Politics in Turkey: A Comparative Perspective, by Sabri Sayarı, Pelin Ayan Musil and Özhan Demirkol (eds.). Abingdon: Routledge, 2018, pp. 246 | Details pdf |
| Jonathan Parker | 403-407 |
| | |
| --- | --- |
| Authoritarianism and Resistance in Turkey: Conversations on Democratic and Social Challenges, by Esra Ozyurek, Gaye Ozpinar and Emrah Altindis (Eds.). Cham: Springer, 2019, pp. 290 | Details pdf |
| Balki Begumhan Bayhan | 409-413 |
Questo sito utilizza un cookie tecnico per consentire la corretta navigazione. Se vuoi saperne di più consulta l'
informativa estesa
.
e-ISSN: 2039-8573