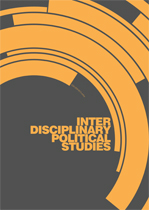 Aim and Scope
Interdisciplinary Political Studies (IdPS) aims to pursue two goals: affirming the importance of rigorous, high-quality Open Access publishing in the field of Political Studies, without imposing article processing charges to authors, and opening the fields of comparative politics and international relations to the contribution of other related disciplines. It is open to scholars studying political issues through the lens of several social science disciplines such as political science, international relations, political theory, political economy, sociology, legal studies and contemporary history. Interdisciplinary analyses are particularly welcome. It publishes two issues per year focusing on domestic and international politics.
IdPS considers the following types of submissions: Research Articles, Research Notes, Review Essays and Book Reviews. Prospective guest editors are invited to submit special issues proposals.
All papers are subject to a rigorous process of double-blind peer-review.
Announcements
Call for Papers Vol. 5, n. 1 (2019): "Civil Wars, Insurgencies, Armed Politics" (deadline 10 October 2018)

This special issue deals with the study of armed insurgencies, integrating political, sociological, legal and economic perspectives. It aims to discuss the changing role of actors, dynamics, and scenarios of contemporary insurgencies.

Posted: 2018-07-20
More...

Call for Special Issues 2019 (deadline 2 October 2018)

Interdisciplinary Political Studies (IdPS) welcomes the submission of proposals for special issues to be published in 2019.
Posted: 2018-07-20
More...
Vol 4, No 1 (2018): Trump and the Post-American world order
Full version
Editorial
Special Issue Introduction
Research Articles
Book Reviews
| | |
| --- | --- |
| The Making Of Unipolar Moment: U.S. Foreign Policy And The Rise Of The Post‐Cold War Order, by Hal Brands. Itha-ca: Cornell University Press, 2016, p. 480 | Details pdf |
| Justyna Janicka | 229-231 |
| | |
| --- | --- |
| American Hegemony and the Rise of Emerging Powers: Co-operation or Conflict, by Salvador Santino F. Regilme Jr. and James Parisot. New York: Routledge, 2018, pp. 227 | Details pdf |
| Roromme Chantal | 233-237 |
| | |
| --- | --- |
| By More Than Providence. Grand Strategy and American Power in the Asia Pacific Since 1783, by Michael J. Green. New York: Columbia University Press, 2017, pp. 760 | Details pdf |
| Juliette Schwak | 239-242 |
| | |
| --- | --- |
| US Power in Latin America: Renewing Hegemony, by Ru-brick Biegon. New York: Routledge, 2017, pp. 208 | Details pdf |
| Nikolaos G. Pasamitros | 243-248 |
Questo sito utilizza un cookie tecnico per consentire la corretta navigazione. Se vuoi saperne di più consulta l'
informativa estesa
.
This work is licensed under a Creative Commons Attribuzione - Non commerciale - Non opere derivate 3.0 Italia License.
e-ISSN: 2039-8573