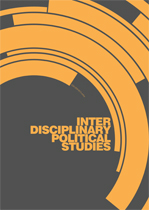 Aim and Scope
Interdisciplinary Political Studies (IdPS) aims to pursue two goals: affirming the importance of rigorous, high-quality Open Access publishing in the field of Political Studies, without imposing article processing charges to authors, and opening the fields of comparative politics and international relations to the contribution of other related disciplines. It is open to scholars studying political issues through the lens of several social science disciplines such as political science, international relations, political theory, political economy, sociology, legal studies and contemporary history. Interdisciplinary analyses are particularly welcome. It publishes two issues per year focusing on domestic and international politics.
IdPS considers the following types of submissions: Research Articles, Research Notes, Review Essays and Book Reviews. Prospective guest editors are invited to submit special issues proposals.
All papers are subject to a rigorous process of double-blind peer-review.
Indexing and abstracting
The list of indexing and abstracting services including IdPS is rapidly expanding. To date, our journal is covered by:
SCOPUS, Directory of Open Access Journals (DOAJ); JournalTOCs; Quality Open Access Market (QOAM); Georgetown University Library; Google Scholar; Academic Journal Database; Open Access Journals Search Engine (OAJSE); Directory of Open Access Scholarly Resources (ROAD)
Announcements
Call for Articles for the Special Issue "Governments and parliaments facing the pandemic challenge" (Guest Editors: Enrico Borghetto and Andrea Pedrazzani)

Deadline for Abstracts: 1st August, 2022

Posted: 2022-07-20
More...

Scopus CiteScore 2021

Interdisciplinary Political Studies has just received its first CiteScore from Scopus.

 

 

Posted: 2022-06-17
Vol 8, No 1 (2022): The Women, Peace and Security Agenda: Time to Gild the Cracks? Guest Editors: Clara della Valle, Elisa Piras
Full version
Special Issue Introduction
Editorial
Special Issue
Research Articles
Book Reviews
| | |
| --- | --- |
| Gender, Protests and Political Change in Africa: Book Review | Details pdf |
| Mohamed Mahfouz Akadiry Nzamba | 223-224 |
| | |
| --- | --- |
| Book Review Democracy and Fake News, Information Manipulation and Post-Truth Politics, edited by Serena Giusti and Elisa Piras. New York: Routledge, 2021, pp. 232. | Details pdf |
| Nicolò Pennucci | 225-227 |
Questo sito utilizza un cookie tecnico per consentire la corretta navigazione. Se vuoi saperne di più consulta l'
informativa estesa
.
e-ISSN: 2039-8573