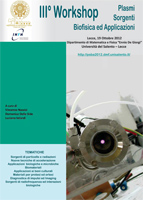 ISBN: 978-88-8305-101-2
e-ISBN: 978-88-8305-102-9
Il III Workshop "Plasmi, Sorgenti, Biofisica ed Applicazioni", si è tenuto in Lecce il 19 ottobre 2012 presso il Dipartimento di Matematica e Fisica organizzato dallo stesso dipartimento con la partecipazione del Dipartimento di Scienze Biologiche e con il supporto della locale sezione INFN.
Lo scopo del workshop è stato sempre quello di confrontare le proprie esperienze scientifiche e tecnologiche nelle differenti discipline allo scopo di concentrare i vari sforzi e raggiungere quel risultato che la comunità intera è in attesa di ricevere.
Le tematiche trattate sono state argomenti di Fisica, Biologia, Medicina, Biotecnologia, Chimica ed Ingegneria.
La ricerca scientifica continua produrre interessanti risultati in varie discipline nonostante le pesanti difficoltà presenti nel nostro paese. I risultati devono essere messi a disposizione dell'uomo, inteso come individuo soggetto ad invecchiamento e come individuo strettamente dipendente dall'ecosistema. Quindi, la ricerca di base è importante e lo è sempre di più se alla fine della scoperta è possibile ricevere le giuste considerazioni tali da poter operare applicazioni immediate per scoprire nuove conoscenze e per migliorare la qualità della vita.
La partecipazione al workshop è stata numerosa, oltre 70 persone. Hanno partecipato Fisici, Biologi, Medici, Ingegneri e privati, provenienti da tutta Italia e dall'estero, Bari, Catania, L'aquila, Legnaro, Lecce, Milano, Messina, Praga, ecc. Si sono registrati ben 30 contributi con la partecipazione di oltre 140 autori.
a cura di Vincenzo Nassisi, Domenico Delle Side, Luciano Velardi
Full Version (PDF)
| | |
| --- | --- |
| Sistemi di Computer-Assisted Detection e di Analisi di Dati Bio-medici | Details PDF |
| M. Donativi, G. De Nunzio, R. Cataldo, I. De Mitri, G. Pastore, M. Rucco, A. Carlà, M. Peccarisi, A. Massafra, R. Demitri, S. Di Sabatino, R. Buccolieri, R. Quarta, M. Grimaldi, A.D. Manca, M. Torsello, I. Zecca, A. Falini, A. Castellano, L. Bello, R. Soffietti, G. Galluccio, S. Batzella | 53-59 |
| | |
| --- | --- |
| La fragilità ossea svelata dagli ultrasuoni può consentire la "produzione di salute" su larga scala: studio pilota in pazienti talassemici | Details PDF |
| P. Piscitelli, A. Argentiero, C. Neglia, A. Peluso, S. Di Rosa, A. Ferrarese, V. Caiaffa, N. Agnello, G. Chitano, G. Gaudino, I. Bortone, M. Benvenuto, A. Distante | 68-72 |
| | |
| --- | --- |
| The LILIA project: ion beams for hadrontheraphy | Details PDF |
| S. Agosteo, M. P. Anania, M. Caresana, G. Cirrone, C. De Martinis, D. Delle Side, A. Fazzi, G. Gatti, D. Giove, D. Giulietti, L. Gizzi, L. Labate, P. Londrillo, M. Maggiore, V. Nassisi, A. Pola, S. Sinigardi, A. Tramontana, F. Schillaci, G. Turchetti, V. Varoli, L. Velardi | 149-157 |
| | |
| --- | --- |
| Advances in the SPES Project and its ion source systems | Details PDF |
| D. Scarpa, M. Manzolaro, J. Vasquez, L. Biasetto, A. Cavazza, S. Corradetti, J. Montano, M. Manente, D. Curreli, G. Meneghetti, D. Pavarin, A. Tomaselli, D. Grassi, P. Benetti, A. Andrighetto, G. Prete | 161-168 |
Questo sito utilizza un cookie tecnico per consentire la corretta navigazione. Se vuoi saperne di più consulta l'
informativa estesa
.
This work is licensed under a Creative Commons Attribuzione - Non commerciale - Non opere derivate 3.0 Italia License.
e-ISBN: 978-88-8305-1029